Hazelwood Rises to the Apprentice Chef Challenge!
Laura Stack and Julia O'Doherty, two Home Economics students from Hazelwood College attended the semi-final for the 'Apprentice Chef Competition' in Institute of Technology Tralee on Thursday last. Laura Stack, currently in second year, and Julia O' Doherty, a TY student, faced the challenge to create a recipe and prepare a main course using only ingredients from the 'Good Mood Food List'. The Hazelwood College pair saw off competition from students in schools across Kerry, Cork and Limerick to win the coveted places in regional final on Friday, March 8th.
The competition is generously sponsored by Institute of Technology Tralee, Lee Strand, 'Just Cooking', Firies, 'Inner Joy', 'Utensils' and Taste of Kerry. The students were met by Chefs Mark Murphy, Mark Doe and Simon Regan in the Hotel and Catering Department of the I.T.


The overall regional winner will receive €1,000 for their school, sponsored by Lee Strand, plus a three day internship with Chef Simon Regan. The ultimate victor will also win three cookery workshops with Chef Mark Doe at Just Cooking, Firies, three Innerjoy Wellbeing Coaching sessions with Susan Fitzgerald, an Apprentice Chef uniform and kitchen utensils.
Competition mentor, Mark Doe, feels that this is a positive opportunity for schools. "With the importance of healthy eating and you are what you eat, we believe that the Apprentice Chef will bring an enhanced awareness of this to the Secondary Schools," he said. The girls' Home Economics teacher, Ms. Daly, expressed her confidence in the students, labelling the students as 'extremely capable and self-motivated'.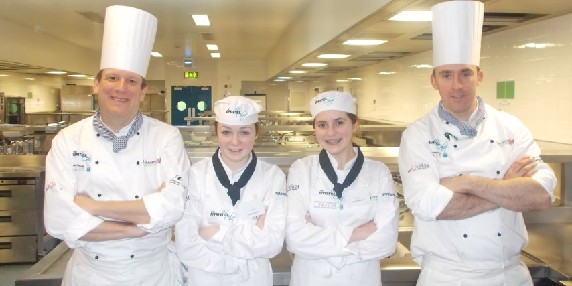 (left to right) Mark Doe, Proprietor of 'Just Cooking' Culinary School, Hazelwood College students Laura Stack and Julia O'Doherty and local chef Simon Regan at the IT Tralee Hotel and Catering Department. The Hazelwood College pair participated in the 'Apprentice Chef Competition' Semi-Final as preparation for the upcoming Regional 'Apprentice Chef Competition' Regional Final