Hazelwood's (Michelin) Stars Dazzle in Home – Cook Heroes Competition
Hazelwood College was represented by three dynamic students in the final of the Home Cook Hero Competition 2013 on Saturday 9th November last in the Cooks Academy Cookery School in Dublin 2. Gastronomic delights of all shapes and sizes were prepared and cooked by thirty finalists from across the country. In an intense contest, the finalists battled it out for the accolade of Home Cook Hero Award for 10 different categories along with Best Overall Dish and Best Culinary Skills.
Hazelwood College's Neasa Fahy, first year, prepared and cooked Bacon Surprise with Beetroot & Feta Cheese Skewers for the Tiny Tastes category sponsored by Easy Parenting, while fellow first year Maedbh McCarthy's category was Fabulous Fowl sponsored by Moy Park. She cooked Lemon Chicken. In the €10 Family Favourites category sponsored by Lidl, finalist Cathy Foley, Second Year, cooked Indian Butternut Squash Curry.
The three finalists, accompanied with a family member and their Home Economics teacher Ms. Noreen Daly, attended a black-tie gala dinner where they dined on a sumptuous three course meal followed by an awards ceremony which was hosted by TV3's Martin King.
There was great excitement and shouts of jubilation when Cathy Foley was announced as the winner of the Best Culinary Skills Award. Cathy was a natural in front of the camera and spoke with great ease to Martin King regarding the inspiration for her dish. Ms. Noreen Daly Home Economics teacher said that "The girls worked to the highest standard possible and excelled themselves on the day. They worked with such ease, despite the pressures of the occasion and the TV cameras. They are a credit to their families and great ambassadors for the school". Each of the girls received a beautiful boxed hamper of goods and certificate on the night.
Cathy received a voucher to the value of €350 for a 4 day cookery course in the Cooks Academy. Lidl who sponsored the Family Favourite category were so impressed with Cathy's achievement on the night and her ease in front of the camera have agreed to use her recipe for in-store promotions across the country and will film Cathy making the dish for their website in the new year.
All eyes and ears will be watching and listening excitedly to see the girls on The Easy Food Home Cook Hero Awards which will be broadcast on TV3 this Saturday afternoon 16th November at 1.25pm for a duration of 30 minutes.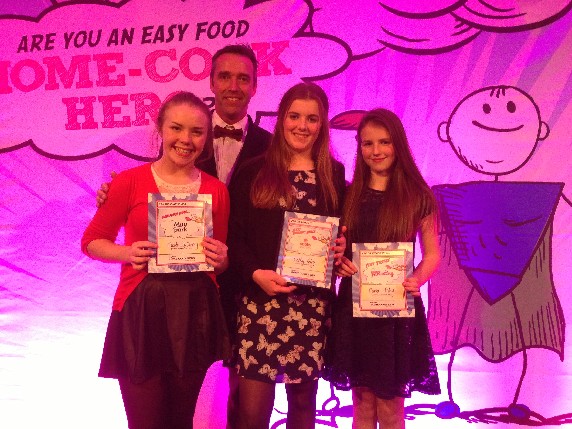 Hazelwood College students (left to right) Maedbh McCarthy, Celebrity Chef Judge Kevin Dundon, Cathy Foley and Neasa Fahy at the Shelbourne Hotel Dublin for the Home Cook Hero Awards 2013.