Congratulations to one of last years Leaving Certs Shannon Curtin Fantastic achievement.
IT Tralee Culinary Students Get Gold at CATEX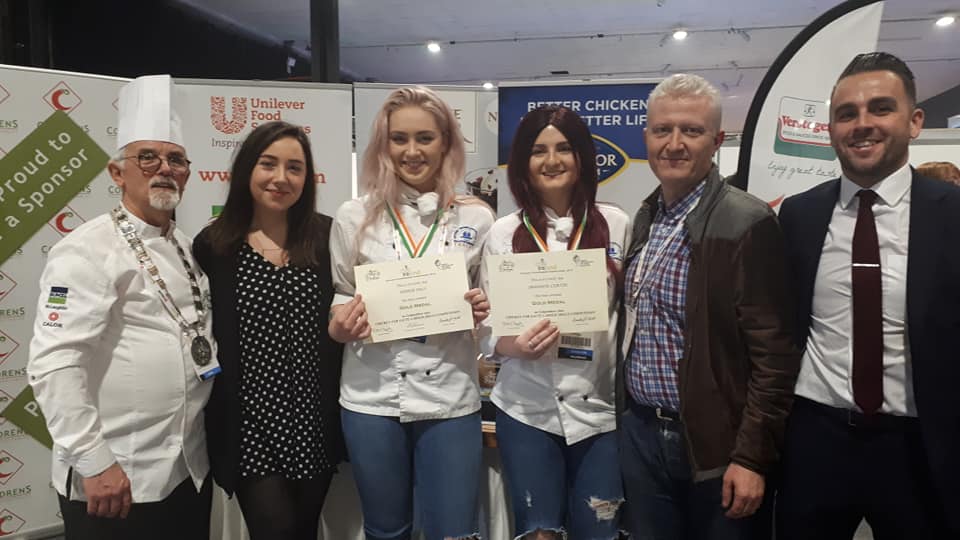 Mar 5, 2019
IT Tralee Culinary Students Get Gold at CATEX
The Catex exhibition took place in Dublin from the 26th-28th February, it is Ireland's Largest Hospitality and Culinary Event. The Hotel, Culinary Arts and Tourism Department were represented in the Chef Ireland competitions, which are organised by the Panel of Chefs of Ireland and endorsed by the World Association of Chefs Societies. The Catex exhibition provides an opportunity for Ireland's most talented student chefs and hospitality students from colleges all across the country to go head-to-head in tightly fought contest across a broad variety of competitions. Now in its 53rd year, Catex remains the biggest competition of its kind in Ireland and is an excellent opportunity for chefs and Hospitality students of the future to showcase their talent in front of some of Ireland's leading food and hospitality professionals.
ITT had a team of two students competing in the Chicken for Sauté Larder Skills and Cookery Relay Competition, Junior Class and they were not left lacking when the prizes were being presented they received gold medals. The students Kerrie Daley (Ballyheuige, County Kerry) and Shannon Curtin (Milford, Charleville, County Cork) are currently studying on year 1 of their Culinary Arts programme at the institute. Their dish was Sauté Chicken Chasseur – Glazed Carrot and Courgettes and Parisienne Potatoes. The college mentors for all this competition were Chef Lecturer Mark McLarnon and Chef Mark Murphy.
These students are to be commended for their achievements and the entire Hotel, Culinary Arts and Tourism Department "Would like to congratulate and acknowledge how proud they are of the students and their great achievement at the national competitions such achievements will greatly enhance their future career prospects. Special mention to Chef Mark McLarnon for his dedication and commitment in preparing the students for the competition and all those who helped make this a reality for the students. It is indeed a great achievement on the National stage".