NOT ONE, but TWO FINALISTS!
APPRENTICE CHEF is cookery competition organised by chefs in Tralee Institute of Technology. It focuses on making healthy food choices 'Good Mood Foods'
The Involvement in The Apprentice Chef is the top Home Economics achievement in Hazelwood College, where Healthy Eating is a priority. Students love to participate in cook-offs in school and they really benefit from the Tralee workshop where they can experience a professional catering environment.
Participating student chefs are linked to a chef mentor who advises them on their dishes.
Apprentice Chef has raised the standard of skills in our school and inspired students and their families toward healthier food choices . In Hazelwood College EVERYBODY learns about 'good mood food' from Tralee's Apprentice Chef Event.
This year is our 4th year competing the The Apprentice Chef. Hazelwood's Julia O'Doherty won 1st prize in 2012. the competition's first year. Then, in 2015, Laura Stack came 3rd in the final. We have four Home Economics Teachers in our school and we teamwork towards better food choices. Home Economics student numbers are growing and we are happy to be adding a new kitchen this year.
Photos show ;
Billy Ryan, our 2nd year finalist, who is using locally sourced beef from O'Connor's butchers, Dromcollogher, pictured with Ciaran O'Connor, craft butcher. Ciaran taught Billy how to butcher beef fillets into even-sized cubes for his dish.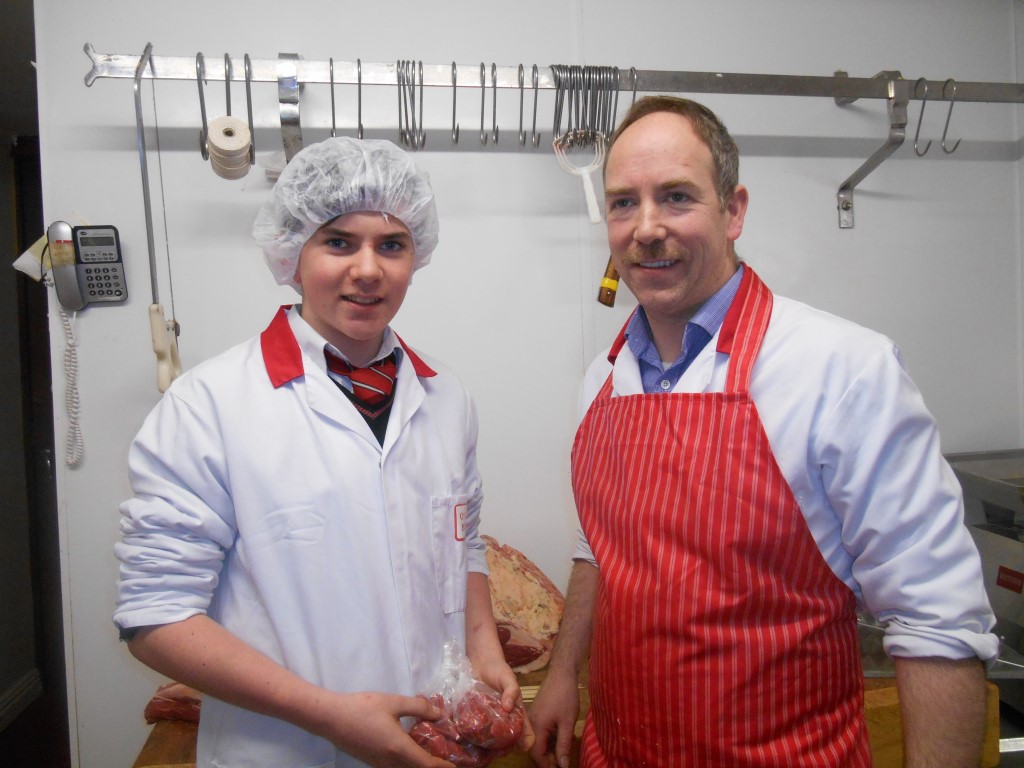 This is Orlaith Hennessy's dish of Fish Curry and rice with crostini and green salad. This was her original dish idea. With the help of her chef mentors Orlaith has developed this dish to an even higher standard. Check out The Apprentice Chef Facebook page to follow our successful students.