Hazelwood College: 4-13
Our Lady's Secondary School, Templemore: 0-1
Only one thing comes to mind to describe the recent performance of the Hazelwood College Senior Camogie team in the Munster Camogie Championship League. Magnificent.
On a bleak Tuesday morning the ladies of Hazelwood College set out for Tipperary in their upcoming match against Templemore. Upon arriving at the destination, they were greeted with a biting wind and a blanket of grey clouds looming in the sky overhead. The ladies however, endured the cold with a steely determination and did not let it distract them from what they were their to do, which was win.
Victory was predicted to be in the hands of Hazelwood College within the first five minutes of the match when Aoife Murray scored the first of what would be many goals for the team. This goal was the catalyst that Hazelwood College needed in order to give them the courage to work harder and push the boundaries, if possible, even more. The results were satisfactory as within the next fifteen minutes of the game, Ide Cunningham scored not one, but four points for the team and secured them the upper hand in the match.
And so the first half came and went. The girls of Hazelwood college were tired and both the team and spectators alike wondered if they would perform just as well in the second half of the game or would Templemore make a comeback. Our wondering was laid to rest as Hazelwood College played just as well, if not better, with Chloe O Brian scoring the team a goal that was followed by Sarah MacDermott who finished with burying a goal in the bottom left corner of Templemores' net. The whistle blew and Hazelwood had won 4-13 to 0-1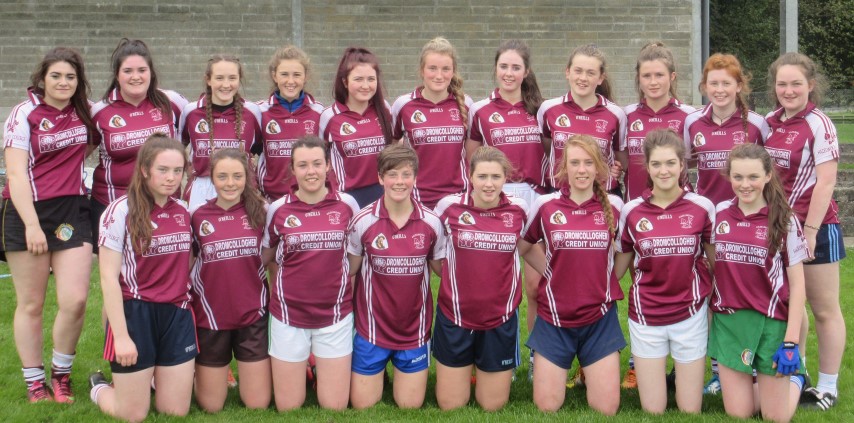 Hazelwood College's Senior Munster Championship Camogie team are pictured after their comprehensive win over Our Lady's Secondary School. Templemore. Back row (left to right) Abby McDermott, Sarah McDermott, Sarah Sheehan, Shauna Cunningham, Aisling Enright, Brid Flanagan, Íde Cunningham, Megan Nolan, Aisling Cunningham, Ava Mullane and Mary Kate Fehin. Front row (left to right): Sinead O'Donnell, Anna Walmsley, Katie O'Carroll, Niamh O'Brien, Aoife McMahon, Chloe O'Brien, Aoife Murray and Caitlín O'Connor
reporting by … Transition Year