Sweet Success for Hazelwood
Hazelwood College's Home Economics students enjoyed great success at the recent Listowel Food Fair. Since its commencement in 1995 the Listowel Food Fair has continued to be a phenomenal gastronomic success. It continues to provide the public with an array of events such as cookery demonstrations with celebrity chefs, food tastings, seminars, workshops and numerous cookery competitions.
One competition in particular that continues to prove popular with all age groups is the 'Home Baker of the Year Award 2012', under the category of 'Best Cupcake Decoration' and 'Best Chocolate Biscuit Cake' this year. Hazelwood College Home Economics students were invited to participate and the level of interest showed their enthusiasm and imagination. An enormous amount of time and energy was made by all the students who entered. 'The cherry on the top' was when Jessica Roche (1st year) was announced 1st prize winner and Tara O' Donnell (3rd year) won 2nd prize in the best cupcake decoration category. This was followed quickly with the revelation that Orla Cunningham (5th year) was declared 3rd prize winner in the best chocolate cake category.
The judges were highly impressed with the school entries – Michelle O' Connor one of the judging panelists commented that she 'was amazed by the interest and the quality of the products entered and blown away by the creativity of the students.' There was great excitement when news filtered through the school of the girls' success.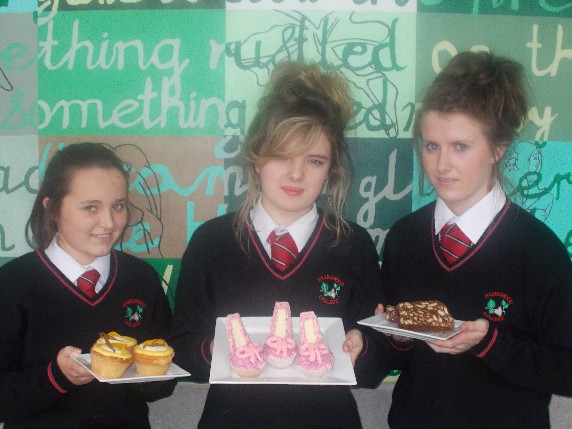 Sweet Success for Hazelwood College! Pictured (L to R) 'Home Baker of the Year 2012' Winning students – Jessica Roche winner of Best Cupcake Decoration category, with Tara O' Donnell who took second prize in the Best Cupcake Decoration Category and Orla Cunningham, who took third prize in the 'Best Chocolate Biscuit Cake' category.