Hazelwood advance after epic battle.
On Thursday last Hazelwood's Junior Ladies' Football team maintained their unbeaten record for the year and also advanced to the Munster Junior Ladies' Football Colleges' Competition semi-final thanks to a 5-4 to 2-5 win over Kilrush Community School of Clare.
However the score line doesn't reflect how much Hazelwood had to work for this victory. The game took place in Old Christians' GAA grounds in Limerick City. Conditions underfoot were very heavy and wet, and combined with a very strong breeze overhead, circumstances were not ideal for a game of football. With these conditions a physical battle was in store. Hazelwood's captain Norma O' Sullivan decided to play against this wind in the first half and this decision proved pivotal as they could work harder early in the game and keep the Kilrush forwards at bay. Kilrush got off to a better start with an early goal against the run of play. Due to the wind in their faces, the Hazelwood forwards had to seize upon every half chance they got. Hazelwood's style of play was exemplified by a brilliant goal from the individual brilliance of Laura Stack and a well worked point from Katie McCarthy. Kilrush finished the first half with only 1-3 thanks to fantastic defensive performances from all the backs especially Meabh McCarthy, Ide Cunningham and Ava Mullane. The half time score read Hazelwood 2-2 to Kilrush's 1-3.
After some inspiring words from Hazelwood's manager, Ms.O'Connor, and with the wind firmly behind them, the girls found another gear and scored another two goals from Laura Stack and Sarah Sheehan. However Kilrush did not go down without a fight and threw everything at Hazelwood in the second half and forced some fine saves from Rebecca McGuiness. In the final ten minutes Hazelwood's desire for possession showed and with Cathy Foley and Brid Flanagan sweeping up in midfield victory was assured. Hazelwood now progress to the Munster Semi Final after a well-deserved Christmas Break.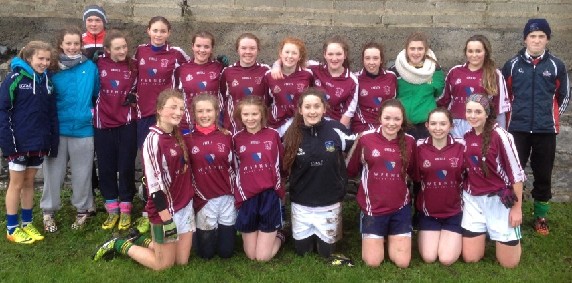 Pictured are Back Row (from left to right) Shauna Cunningham, Niamh O'Brien, Nigel O'Callaghan, Sarah Sheahan, Katie McCarthy, Cathy Foley, Meadbh McCarthy, Ava Mullane, Mary Kate Fehin, Shannon Buckley, Aoife McMahon, Jessica Roche and Brian Murphy.
Front Row (from left to right) Bríd Flanagan, Aisling Cunningham, Tara Reidy, Rebecca Mc Guiness, Laura Stack, Norma O'Sullivan and Emily-Rose Mulcahy