It has been an unusual week in so many ways, the closing of the schools took most of us by surprise, maybe not that the schools closed but how quickly it happened.
The staff have been busy at home creating online classes, training up in new technologies and getting used to a whole new way of thinking.
Here are some of the stats from the week from the IT side, it shows how quickly students and teachers have been adapting.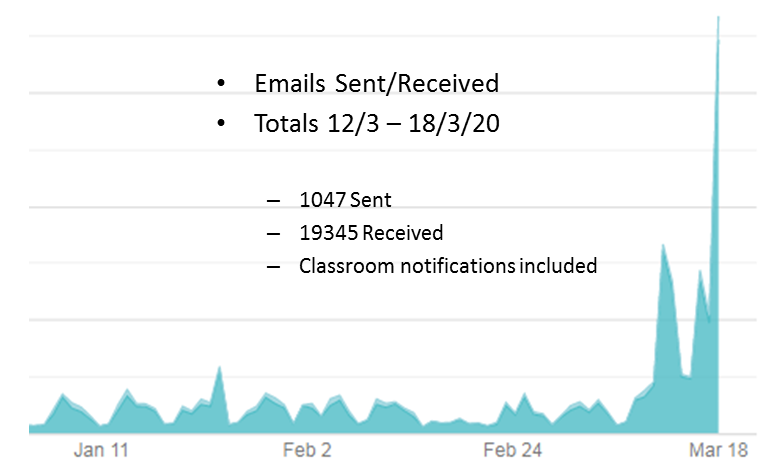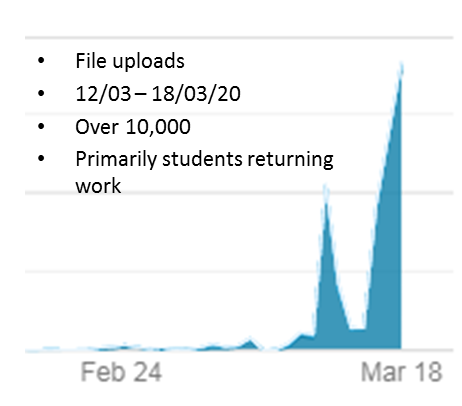 This graph shows the volume of work being created by the students and returning of that work to the teachers.
Some teachers have begun trialing webinars with some of their classes. Over 100 webinars have taken place / been attempted in the last week. Some more successful than others due to the rural location and broadband accessibility.
Not all teachers are using Google Classroom. Some feel more comfortable with email. All students should be regularly accessing their school email here or by clicking the email and docs cloud on the front page of this website. Also when a teacher sets up a Classroom the invite is sent to the students email. Students should check their emails to make sure they are not missing out on any classes. An important email on how to use Google Classroom and see a particular type of teacher feedback that some are using has been sent to all students.
Google Classroom can be accesssed here https://classroom.google.com or via the free app available on the Android and iOS app stores.
Free eBooks
Many companies are offering their premium software for free during the Covid19 period. Here are two which may be of help.
Both Folens and Edco are offering both their Primary and Seconday schools free online. Details as follows:
Folens
Register as a teacher & use the special code below for Roll Number
Primary school resources: Prim20
Secondary school resources: Sec20
https://www.folensonline.ie/registration/?r=t
Edco