Congratulations to our U16 Ladies Basketball Team who beat Castletroy College in the All Ireland Final
Here is a match report as reported in the Limerick Leader recently
Also in the National Basketball Arena, Tallaght, Hazelwood College, Dromcollogher had too much for Castletroy College in the final of the U16 B Girls League final.
Hazelwood College, Dromcollogher 52
Castletroy College, Limerick 38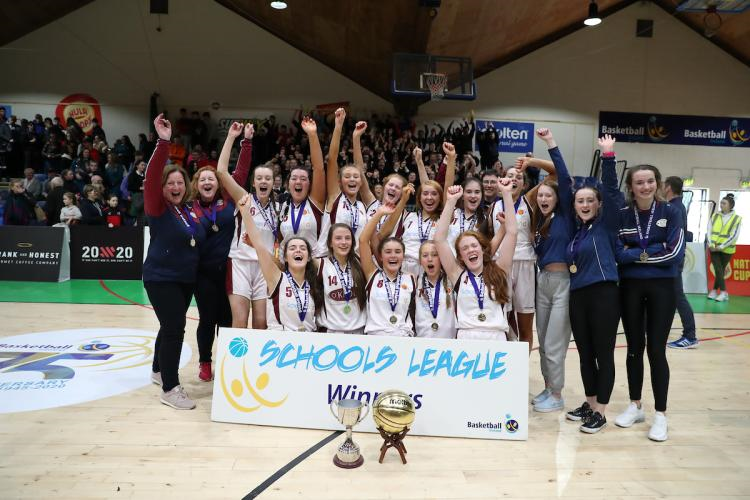 In this all Limerick affair, both teams got off to a fast start. Kiera Shyne opened the scoring for Castletroy before Saoirse McCarthy hit two free throws to get Hazelwood off the mark. Sorcha Cronin had five points with Shyne getting another elbow jumper to bring Castletroy to eleven points for the quarter.
Hannah Cremin made her free throws when on the line before the Fahy sisters, Keelan and Niamh contributed as well to give Hazelwood a one-point lead 11-12 going into the second.
Castletroy started the brighter with Emma O'Sullivan finding her range on the way to 6 points in this quarter. Shyne was a threat the whole time in transition with Azeezat Muniru getting on the scoreboard. Limiting the second attempts held Hazelwood to just eight points with Cremin, McCarthy and Niamh Fahy the scorers. Castletroy lead 23-20 at the half.
The third quarter saw Hazelwood flip the script, Niamh Fahy had seven points with Cremin and Meabh Magner scoring in the lane as well to erase the deficit and push Hazelwood in front. O'Sullivan and Cronin kept the scoreboard ticking but the writing was on the wall for Castletroy.
It was 33-37 going into the last quarter. Hazelwood came out as they finished the third, Cremin was unstoppable on her way to a game high of twenty-one points and Castletroy had no answer to her. Shyne and Nofeesat Muniru did find they basket but it was not enough to stop Hazelwood College taking the win 38-52.
Hazelwood College Hannah Cremin 21, Laura Sexton, Maebh Magner 4, Katie Burke 2, Saorise McCarthy 10, Keelan Fahy 6, Katie Coughlan, Grace Noonan, Orla Bennis, Sarah Kate O'Connor, Niamh Fahy 11, Keelin O'Brien.
Castletroy College Kiera Shyne 11, Emma, O'Sullivan 11, Sorcha Cronin 8, Gandy Malou Mamel 1, Nofeesat Muniru 5, Azeezat Muniru 2, Tawaklit Musa, Julia Cuneen.
MVP: Hannah Cremin, Hazelwood College.