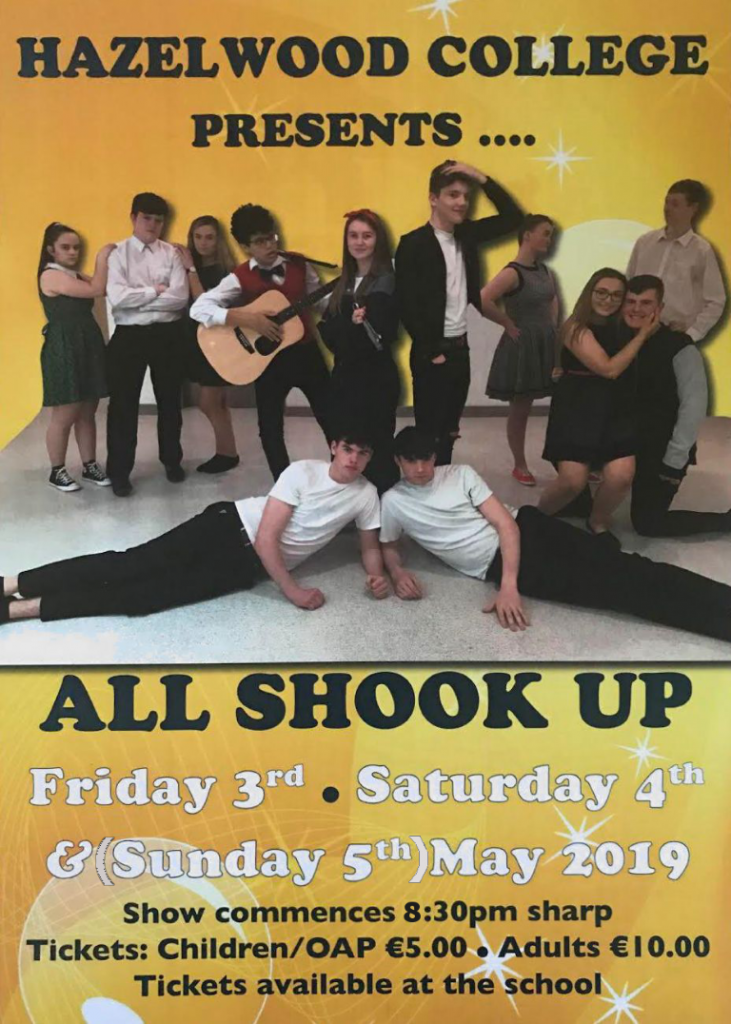 Hazelwood College proudly presents its annual musical this Bank Holiday weekend.
All Shook Up is a musical based around the music of Elvis. Inspired by Shakespeare's Twelfth Night, All Shook Up follows a small Midwestern town that is thrown into a frenzy with the arrival of Chad, a good-looking, motorcycle-riding charmer, who rides from town to town with a guitar on his back, blue suede shoes on his feet, and a song in his heart. Repressed by their conservative mayor, the town begins to come alive once more under Chad's influence. Lovers meet, woo, pursue, and more, all in one crazy night that will change the town forever. All Shook Up is a rocking, heartwarming tale about following dreams, opening up to love, and the power of music.
In a change from previous years the show will commence at 8.30pm each night and as usual Sunday nights performance is subject to demand. Follow the school's website, Facebook, Twitter for details .
Also in a break from tradition this year's show will not be preceded by a Variety Show. Instead a longer adaptation of the musical will take place. The music department has been particularly busy this year. Not only have they been working late and during the holidays on the musical but they have also over the past six months been recording the school's 3rd CD of talent.
This CD will be launched on the 17th May by past student Darren Roche from the world renowned group Moxie before they commence a summer tour of Ireland, UK and USA. Full details of the CD Launch in the coming weeks.