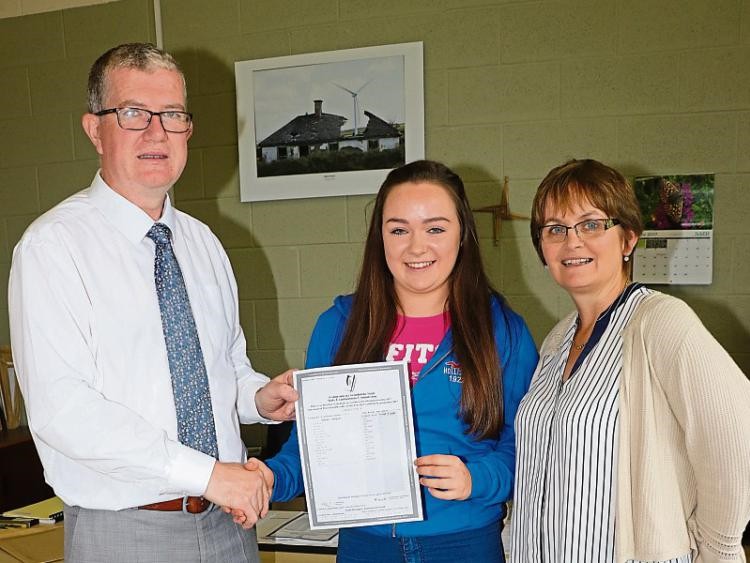 The long wait is over for our Leaving Certificate students as they finally received their results following years of hard work.
There were exciting scenes at the school this morning as anxious students opened their envelopes. Thankfully there were smiles all round as it became clear that many students had achieved above and beyond their expectations.
The class of 2017 at Hazelwood College exceeded last years national average points by over 120 points reflecting the continued success of the school. A record number of students achieved above 500 points including students achieving over 600 points.
The success of one student, Laura Stack, made national headlines by being one of only thirteen students in the country to achieve 8 H1's.
The management and staff of Hazelwood College are extremely proud of all the students' efforts and wish them every success in their future endeavours.
Here's what the Limerick Leader had to say about Laura's success
Limerick camogie player scores top marks with 8 H1s in Leaving Certificate
A LIMERICK minor and senior camogie player from Dromcollogher has achieved one of the best Leaving Certificate results in the country.
Laura Stack, who sat her exams at Hazelwood College, got 8 H1s – the equivalent of 800 points – in the final state exams.
"I wasn't expecting it whatsoever, I thought it was a wind-up this morning," Laura told the Limerick Leader from her home in Dromcollogher.
"I kept (sport) up until the beginning of May, and then I stopped it to put the head down. I was probably more stressed coming up to the results than I was for the exams.
"The month of June was stressful but throughout the year it was grand," said the 18-year-old star pupil.
The maximum number of CAO points a student can claim is 625, from the six best subjects – and Laura's first choice is Management Science and Information Systems in Trinity College Dublin.
"I like all my subjects, but I like business and maths – they're my favourites," said Laura, who went to Broadford National School.
"I suppose the best piece of advice is to do it properly as you go along, because I found out that you can't really do a lot at the end of May and start of June," she added, laughing.
Hazelwood College principal Brendan Burke congratulated the student and said that she has always been "an excellent student".
"She participated fully in sport right up until the end. She's on the Limerick senior and minor camogie panels, she has an All-Ireland club medal for camogie with Milford, and she was in the All-Ireland football final with Dromcollogher-Broadford," he said.
"She has senior camogie and football medals with the school, and she won the Munster camogie final this year with the school. Hurling, football and handball are her sports. She's a real all-rounder," said Mr Burke.
"She was always good – we weren't surprised this morning, we were delighted. There are 13 people who got 8 H1s in the country, out of almost 60,000. We are very proud of her, she is a great ambassador for the school and always has been," he added.
Other articles online included
RTE News
Irish Times
Irish Examiner / BreakingNews.ie
Irish Independant