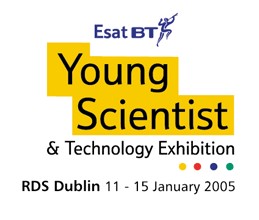 Scientific Research at Hazelwood College
Preparing for the Young Scientist Exhibition
By: Mary Ennis and Billy Fehin, Transition Year Students of Hazelwood College, Dromcollogher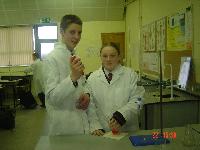 We began preparing our Young Scientist project in September when our chemistry teacher, Ms. Neville brought us in an article she had read in the Limerick Leader. The minute we read it we were instantly fascinated. The article was in relation to Elephant Grass or Miscanthus as it is scientifically known. Miscanthus is a perennial low- input, high-output crop that has great biomass energy potential and loves soil with high water retention properties. Basically that means that Miscanthus is a type of grass, never before successfully grown in Ireland, that requires very little work to farm but has huge potential to become a new type of environmentally friendly fuel. It loves wet boggy land which is why the grass is growing very successfully in Adare. We went on to the internet hoping to find some research material in relation to our project. We were surprised to find millions of pages relating to Miscanthus. We spent weeks reading through the material with the help of our teacher who was always there to give us new ideas and motivation when we needed it. For the practical side of the project we began by visiting Joe Hogan, the farmer who featured in the article. Joe was a wealth of information and on a cold morning in November he happily explained to us how he got started and why he decided to invest so much of his time into his crop. At this stage all of the information we were gathering was starting to make sense. We then went on to spend a full day in the University of Limerick testing the Miscanthus we had taken fresh from Joes farm. This was a great learning experience in itself as we were using chemicals and equipment that we had never heard of before. Mr. JJ Leahy, an industrial chemistry professor in UL was a great help to us on the day as he also has a keen interest in the Miscanthus phenomen. He also works closely with Joe Hogan so it was a great privilege to be working alongside him testing for such things as its Kilogram Calorific Value and Nutrients. So now as the Young Scientist Exhibition draws closer it seems the end is in sight. The project has taken four months of hard work and dedication but it has been a fantastic learning experience and was certainly worth the effort.
Click picture below to view article from Limerick Leader 15th January 2005