Hazelwood College make it five in a row over archrivals Desmond College

Hazelwood College : 2-11
Desmond College: 1-5
This final was played in the back pitch in Newcastle West and was evenly contested up to half-time. However in the second half fitness and skill proved decisive for Hazelwood as they ran out easy winners to retain their title once again.
Hazelwood were slow to settle and Desmond gathered up steam to lead after five minutes but a goal from Clodagh Reidy brought the Drom girls back into this final and by half time they had a good five point lead. Points from Lizzy Costello (4), Joanne O Gorman (2)Naomi Noonan (1) and captain Susie Costello (1) and an inspirational goal from Clodagh Reidy brought their tally to 1-9. Jennifer Stokes playing very well at half back made some forward runs and brought the Drom Girls to life during this first period. At half-time the score was Drom 1-9 to Desmond 1-4.
Even though scores were scarce in the second period, Hazelwood were well on top of their game. Some fine performances from Jen Stokes, Sinead Kiely, Susie Costello, Siobhan Lehane, Mary Hartnett and Clodagh REidy kept Newcastle under pressure for most of the half. A fine goal from Mary Hartnett followed by points from Clodagh and Susie put the game beyond Desmond and Hazelwood Colleged finished up 2-11 to 1-5 for Desmond College.

Hazelwood College Team:

Sinead Kiely, Marie Galvin, Martina Mathews, Trish Leahy, Jennifer Stokes, Sinead O Conner, Siobhan Lehane, Joanne O Gorman, Susie Costello(capt), Elizabeth Costello, Mary Hartnett, Clodagh REidy, Siobhan Enright, Naomi Noonan, Lorraine O Sullivan,
Subs: Lisa Molyneaux. Patricia Kirwan. Claire O Regan, Bernie Stokes, Rebecca White, Michelle Buckley, Maire Ide DeBhal and Carmel Dunleavy.
Picture 1 shows the Hazelwood College Senior Girls Football Team who defeated Desmond College to win the co. VEC Title for the fifth year running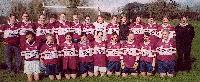 Picture 2 shows captain Susie Costello being awarded the Co. VEC trophy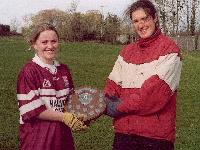 Click on Photo to enlarge