Hazelwood College is situated at Kells Cross, just outside of Dromcollogher. It opened it's doors to students for the first time in September 2002. The €6 million development is a major scoop for the area and it is a tribute to the hard work of Principal Liam Lenihan and his dedicated staff.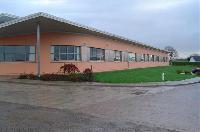 Overlooking the town, the school is situated on an eleven acre site. The playing area consists of a full size G.A.A. field which is complimented by a hard surface area which is used for soccer, basketball and tennis.
A roadway surrounds the school facilitating the delivery and collection of students from the school. A new footpath has been laid down from the school to the town.
These fully resourced areas are inside the school building:

assembly area,
science rooms,
demonstration rooms,
general classrooms,
geography room,
mechanical drawing,
language laboratory
library
art room
technology room
engineering room
music department
computer rooms
PE hall.